If you've ever visited the "City that never sleeps (Las Vegas)," you'll be overwhelmed by the sheer amount of "everything" happening all at once. From the glitzy strip filled with hotels, casinos and larger-than-life shows to the Freemont Street Experience in Old Las Vegas with street performers and an over-indulgence of senses–it's obvious that attention is something worth fighting for.
The "Norm" of Las Vegas
Unfortunately, with the "battle for eyeballs" in a place also referred to as "Sin City" it is surprisingly common how many advertisements are for escorts and prostitution. Contrary to what many think, prostitution is actually illegal in Clark County; yet it would not seem so with so many billboards and advertisements that seem to promote otherwise.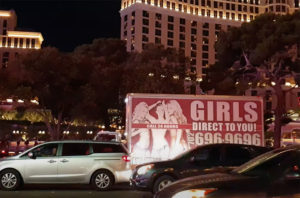 Regardless of the improvements that have been made over the years to make Vegas a bit more accessible to families, there is an expected message flooding the tourist-filled streets that human beings are available to be purchased for any type of entertainment. It's this culture of anonymity and indulgence that also opens up opportunities for traffickers to push further past the law and sell children for these same purposes.
This is where we feel we must first draw the line and win the war: our kids are off limits.
Our goal isn't to stop people from having fun within the ethical boundaries of the law; our mission is to change a mindset that seems to think kids are available for adults (usually grown men) to exploit.
Hijacking Attention With Our Messaging
So we responded in a way that was completely "Vegas." We used the same advertising mediums that contribute to the culture of sexual permissiveness and hijacked the message to boldly proclaim that "KIDS ARE NOT FOR SALE."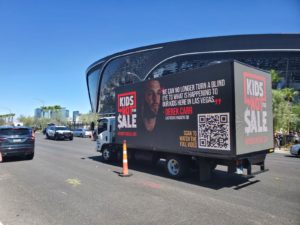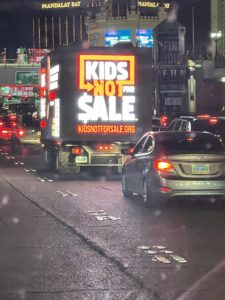 Starting Quarterback for the Las Vegas Raiders and celebrity influencer, Derek Carr, contributed his voice to the cause and created a PSA video that expressed this very sentiment. Weekend after weekend, digital billboards of his likeness, quote, and call to action with a QR code to watch the video infiltrated the packed streets of Vegas, around Allegiant Stadium (where the Raiders play), and lighting up hotel windows to remind men that the community of Las Vegas is taking a stand to protect the rights of children.
Awareness is one of the most important steps in changing a culture and mindset. The first weekend we recorded hundreds of visits to our website to watch the Derek Carr PSA video that were directly from our efforts with the billboard and marketing. We expect that this will increase even more as we are also working with community leaders, legislators, casinos, airport officials, and more who are uniting together to draw a clear line in the sand that we will do whatever it takes to protect children from sexual abuse.
How You Can Join The Movement
This movement, however, isn't just limited to Las Vegas. You can also play a part by signing up to become an Abolitionist through our sister organization, the U.S. Institute Against Human Trafficking. You'll be given resources to learn more how you can become educated and engaged so that we can make America a trafficking free zone and stop thousands of children from being exploited every day.
To learn more about becoming an Abolitionist, click here: https://kidsnotforsale.org/take-action/